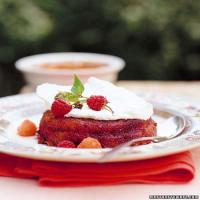 The abundance of raspberries give this classic American dessert its bright red hue.
Provided by Martha Stewart
Categories Food & Cooking Dessert & Treats Recipes
Time 55m
Number Of Ingredients 9
Steps:
Preheat oven to 375 degrees. In a medium bowl, mix all but 1/4 cup berries with lemon juice, and set aside to macerate. Brush four 6-ounce ramekins with 1 tablespoon butter; coat inside of each with granulated sugar, and set aside.
In a small bowl, combine breadcrumbs with remaining 4 tablespoons butter, and set aside. Sprinkle the brown sugar, flour, and nutmeg over raspberries, and gently toss to combine. Divide one-third of breadcrumbs evenly among ramekins. Top with half the berries, and then with another third of breadcrumbs. Repeat with remaining berries and breadcrumbs. Gently press down on layers.
Bake until the crumbs are golden and berry juices are bubbling, about 20 minutes. Remove from oven, and let cool 5 minutes.
Invert ramekins onto serving plates. Remove ramekins, and top each dessert with whipped cream; garnish with reserved berries.
Are you curently on diet or you just want to control your food's nutritions, ingredients? We will help you find recipes by cooking method, nutrition, ingredients...
Check it out »