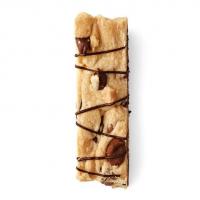 Provided by Food Network Kitchen
Time 2h35m
Yield 18 pieces
Number Of Ingredients 6
Steps:
Preheat the oven to 350 degrees F. Line a 9-inch-square baking pan with foil, leaving a 2-inch overhang on 2 sides.
Beat the butter, vanilla and salt in a large bowl with a mixer on medium speed until smooth and creamy, about 2 minutes. Reduce the mixer speed to low; add the confectioners' sugar and beat until just incorporated. Add the flour in 2 batches and beat until smooth. Stir in 1/2 cup chocolate chips with a wooden spoon.
Lightly dust your hands with flour and press the dough into the prepared pan. Score the top with a knife to make 9 strips, then score the strips in half to make 18 pieces. Bake until the edges are firm and the top is dry, 40 to 45 minutes.
Immediately rescore the cookies, then let cool 20 minutes in the pan. Lift the foil to remove the shortbread from the pan and transfer to a rack to cool completely.
Cut the shortbread into pieces along thescored lines. Put the remaining 1/2 cup chocolate chips in a small microwave-safe bowl; microwave in 30-second intervals, stirring, until melted. Drizzle over the shortbread and let stand until set, about 1 hour.
Are you curently on diet or you just want to control your food's nutritions, ingredients? We will help you find recipes by cooking method, nutrition, ingredients...
Check it out »
#30-minutes-or-less #time-to-make #course #main-ingredient #cuisine #preparation #occasion #desserts #lunch #oven #easy #european #potluck #dinner-party #heirloom-historical #holiday-event #kid-friendly #picnic #romantic #vegetarian #cookies-and-brownies #easter #chocolate #scottish #bar-cookies #dietary #gifts #christmas #hanukkah #comfort-food #brown-bag #valentines-day #taste-mood #to-go #equipment #number-of-servings