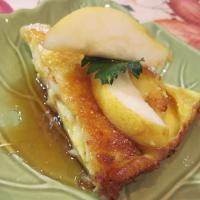 Steps:
Toss pear slices with 1/4 cup white sugar, lemon juice, and lemon zest to coat.
Arrange butter in a 12-inch cast-iron skillet and place on the center rack of the oven. Heat oven to 400 degrees F (200 degrees C). Remove skillet from oven once the butter has just melted, 3 to 5 minutes.
Beat eggs in a large bowl until frothy; add milk, 1/4 cup white sugar, vanilla extract, and salt and mix until just combined. Sift flour into egg mixture and stir until batter is just mixed.
Stir pear slices into the melted butter and spread into a single layer. Pour batter over pears.
Bake in the preheated oven until pancake is set in the middle, the sides have risen, and the bottom is browned, 28 to 30 minutes. Top pancake with confectioners' sugar.
Nutrition Facts : Calories 264.6 calories, Carbohydrate 35.5 g, Cholesterol 157.8 mg, Fat 10.7 g, Fiber 2.1 g, Protein 7.6 g, SaturatedFat 5.4 g, Sodium 226.5 mg, Sugar 20.4 g
Are you curently on diet or you just want to control your food's nutritions, ingredients? We will help you find recipes by cooking method, nutrition, ingredients...
Check it out »