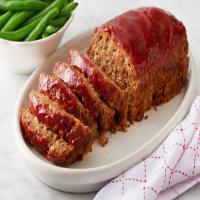 When it's comfort that you seek, nothing satisfies quite like a classic meatloaf. And if you don't have a go-to recipe, we offer you this one. It skips any fussy steps and avoids exotic ingredients. This is pure and simple, the perfectly seasoned, down-home version you remember from way way back. So next time you're missing mama's cooking or need a meal that'll go over well with the whole fam, turn to this can't-miss recipe.
Provided by By Betty Crocker Kitchens
Categories Entree
Time 1h20m
Yield 6
Number Of Ingredients 8
Steps:
Heat oven to 350°F. In large bowl, mix Meatloaf ingredients well. Press mixture in ungreased 8x4-inch loaf pan. Bake 40 minutes.
Remove from oven. Spread 1/4 cup ketchup evenly over top. Bake an additional 15 to 20 minutes or until meat thermometer inserted in center of loaf reads 160°F. Let stand 10 minutes before serving.
Nutrition Facts : Calories 270, Carbohydrate 23 g, Cholesterol 110 mg, Fiber 1 g, Protein 19 g, SaturatedFat 4 1/2 g, ServingSize 1 Serving, Sodium 470 mg, Sugar 9 g, TransFat 0 g
Are you curently on diet or you just want to control your food's nutritions, ingredients? We will help you find recipes by cooking method, nutrition, ingredients...
Check it out »