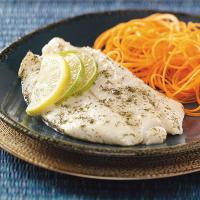 "This dish is simple, flavorful and not fattening at all. And since it's so quick, you can have a friend over and spend all your time visiting." Pam Corder - Monroe, Louisiana
Provided by Taste of Home
Categories Dinner
Time 20m
Yield 2 servings.
Number Of Ingredients 6
Steps:
Place fillets in a 11x2-in. baking dish. In a small bowl, combine the remaining ingredients; set aside 4-1/2 teaspoons marinade. Pour remaining marinade over fillets; turn to coat. Cover and refrigerate for 1 hour., Drain and discard marinade. Transfer fillets to a broiler pan coated with cooking spray. Broil 4-6 in. from the heat for 4-6 minutes on each side or until fish flakes easily with a fork, basting frequently with reserved marinade.
Are you curently on diet or you just want to control your food's nutritions, ingredients? We will help you find recipes by cooking method, nutrition, ingredients...
Check it out »