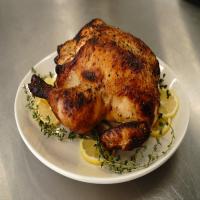 A seasoned mayonnaise coating keeps this roasted chicken juicy, delicious, and full of flavor. This method would be perfect adapted for whole roasted turkey. Delicious served with crusty bread and a green salad.
Provided by NicoleMcmom
Time 1h15m
Yield 6
Number Of Ingredients 11
Steps:
Preheat the oven to 425 degrees F (220 degrees C). Set a roasting rack inside a rimmed baking sheet. Pat chicken dry with paper towels.
Zest 1 teaspoon lemon zest into a small bowl. Quarter remaining lemon and place pieces inside chicken cavity along with onion and garlic.
Add mayonnaise, vinegar, honey, Worcestershire, and cayenne to the lemon zest; mix to combine. Rub mayonnaise mixture evenly all over the chicken and underneath the skin over the breast. Sprinkle chicken evenly with salt and pepper.
Roast in the preheated oven until no longer pink at the bone and the juices run clear, 50 to 60 minutes. An instant-read thermometer inserted into the thickest part of the thigh, near the bone, should read 165 degrees F (74 degrees C). Tent with foil halfway through cooking if too much browning occurs before internal temperature is reached. Let stand for 10 minutes before serving.
Nutrition Facts : Calories 535.7 calories, Carbohydrate 7.2 g, Cholesterol 136.3 mg, Fat 37.5 g, Fiber 1.3 g, Protein 41.9 g, SaturatedFat 8.6 g, Sodium 729.6 mg, Sugar 1 g
Are you curently on diet or you just want to control your food's nutritions, ingredients? We will help you find recipes by cooking method, nutrition, ingredients...
Check it out »