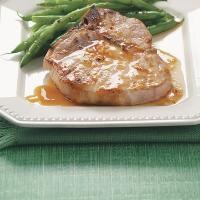 Tangy orange flavors the marinade and sweet sauce that dress up these tender and juicy chops. Add mashed potatoes or rice and a simple side salad for a fuss-free supper. Mary Chandler - Grand Tower, Illinois
Provided by Taste of Home
Categories Dinner
Time 25m
Yield 4 servings.
Number Of Ingredients 9
Steps:
In a small bowl, combine the first seven ingredients. Pour a scant 1 cup into a large bowl. Add pork chops; turn to coat. Cover and refrigerate for 8 hours or overnight. Cover and refrigerate remaining marinade for sauce., Drain and discard marinade. On a lightly oiled grill rack, grill chops, covered, over medium heat or broil 4-5 in. from the heat for 4-5 minutes on each side or until a thermometer reads 145°. Let stand for 5 minutes before serving., Meanwhile, in a small saucepan, combine cornstarch and reserved marinade. Bring to a boil; cook and stir for 2 minutes or until thickened. Serve with chops.
Nutrition Facts : Calories 269 calories, Fat 8g fat (3g saturated fat), Cholesterol 86mg cholesterol, Sodium 451mg sodium, Carbohydrate 15g carbohydrate (11g sugars, Fiber 0 fiber), Protein 31g protein. Diabetic Exchanges
Are you curently on diet or you just want to control your food's nutritions, ingredients? We will help you find recipes by cooking method, nutrition, ingredients...
Check it out »
#course #main-ingredient #occasion #main-dish #pork #dinner-party #meat #pork-chops #taste-mood