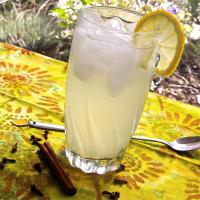 This old recipe for spiced lemonade is really delicious and refreshing. The spices really punch up the flavor and take it to the next level. To serve, pour 1 to 2 tablespoons of the concentrate into the bottom of a cup, add crushed ice, and mix with water, club soda, or ginger ale.
Provided by Turtle
Categories Drinks Recipes Lemonade Recipes
Time 45m
Yield 8
Number Of Ingredients 6
Steps:
Combine water, sugar, cinnamon stick, cloves, and lemon zest in a saucepan; cook and stir over medium heat until just boiling, about 5 minutes.
Reduce heat to medium-low and continue to cook until reduced to a thick syrup, 10 to 15 minutes.
Stir lemon juice into the syrup; bring to a boil and cook 1 to 2 minutes more; strain into a bowl and refrigerate until chilled.
Nutrition Facts : Calories 106.5 calories, Carbohydrate 29.9 g, Fat 0.1 g, Fiber 2.2 g, Protein 0.5 g, Sodium 2.5 mg, Sugar 25 g
Are you curently on diet or you just want to control your food's nutritions, ingredients? We will help you find recipes by cooking method, nutrition, ingredients...
Check it out »