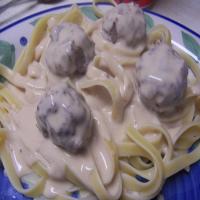 A suzanne Somers recipe for Somersizing. I have made this several times. It is good even if you aren't dieting!
Provided by Elaniemay
Categories Pork
Time 1h
Yield 4 entrees, 4 serving(s)
Number Of Ingredients 13
Steps:
Mix meat and egg together, set aside.
Saute oil and onions until translucent, about 5 minute Add celery and cook 4 minute.
Meanwhile put the stock, bouillon and garlic in a pot and bring to a boil.
Add onion mixture, allspice and salt and pepper to the meat. Work well with your hands.
Form into 1 in balls and place on a baking sheet lined with waxed paper. You should have about 30-40 meatballs.
Slowly add meatballs, 1 at a time to the boiling stock.Add peppercorns at this time.
Let meatballs cook 20 minute.
Remove meatballs with a slotted spoon and and set aside.
Strain the stock and put back into the pot over med-high heat. Reduce for 10 minute.
Turn off heat and add cream cheese, whisking until well combined.
Pour over meatballs.
Nutrition Facts : Calories 894.7, Fat 69, SaturatedFat 29.5, Cholesterol 299.2, Sodium 1247.5, Carbohydrate 7.1, Fiber 0.9, Sugar 2.5, Protein 59
Are you curently on diet or you just want to control your food's nutritions, ingredients? We will help you find recipes by cooking method, nutrition, ingredients...
Check it out »
#60-minutes-or-less #time-to-make #course #main-ingredient #cuisine #preparation #main-dish #beef #pork #scandinavian #european #swedish #ground-beef #meat