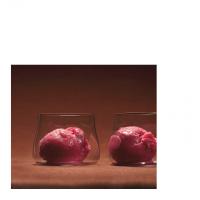 Steps:
Combine cranberries, 2 1/2 cups water, sugar, and coarse salt in large heavy saucepan. Scrape in seeds from vanilla bean. Add bean to mixture and bring to boil over medium heat, stirring until sugar dissolves. Reduce heat to low; simmer until cranberries pop and are soft, stirring occasionally, about 10 minutes. Cool to room temperature.
Remove vanilla bean from cranberry mixture. Working in batches, puree cranberry mixture in blender. Strain into large bowl; discard solids. Stir in lemon juice. Refrigerate cranberry mixture until well chilled, at least 4 hours or overnight.
Transfer cranberry mixture to ice cream maker and process according to manufacturer's instructions. Transfer sorbet to container; cover and freeze.
Are you curently on diet or you just want to control your food's nutritions, ingredients? We will help you find recipes by cooking method, nutrition, ingredients...
Check it out »