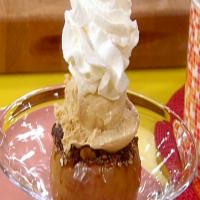 Provided by Rachael Ray : Food Network
Categories dessert
Time 30m
Yield 4 servings
Number Of Ingredients 11
Steps:
Preheat oven to 425 degrees F.
Sprinkle cored apples with lemon juice. Mix next 7 ingredients and over-stuff apples. Bake 20 minutes in a small oven safe dish. Transfer apples to small bowls with a spoon and top with ice cream and whipped cream.
Are you curently on diet or you just want to control your food's nutritions, ingredients? We will help you find recipes by cooking method, nutrition, ingredients...
Check it out »
#30-minutes-or-less #time-to-make #course #main-ingredient #cuisine #preparation #occasion #north-american #desserts #eggs-dairy #fruit #american #easy #beginner-cook #dinner-party #romantic #vegetarian #frozen-desserts #nuts #dietary #gluten-free #inexpensive #egg-free #northeastern-united-states #free-of-something #apples #brunch #taste-mood #sweet