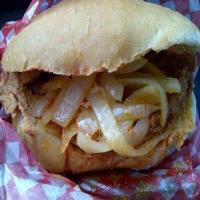 My mom used to make these Portuguese sandwiches all the time. So yummy on fresh Portuguese buns and sauteed onions
Provided by Luci Vieira
Categories Pork
Number Of Ingredients 9
Steps:
1. Place pork cutlets in a large heavy plastic ziptop bag and place in a large bowl.
2. In a mixing bowl, combine one cup of the wine, vinegar, garlic, bay leaves, 1 tbsp pimento paste (1/2 tbsp if using hot), 1/4 tsp paprika and piri-piri sauce. Pour this mixture over pork, making sure all meat is covered and seal bag.
3. Refrigerate for severl hours or overnight, turning bag frequently.
4. Bring meat to room temperature before cooking; to cook, heat skillet over med-high heat and melt lard, cook pork in batches. When pork is sauteed, drain off the fat and add remaining wine (1/4 cup), remaining pimento paste (1 tbsp, 1/2 tbsp if using hot), remaining paprika (1/4 tsp) to the skillet, as well as salt and pepper to taste.
5. Bring to a boil, stirring and scrapping up any brown bits. Return pork to the skillet, reduce heat to low and cook for a couple minutes.
6. Serve pork on fresh Portuguese buns (Papo Secos) topped with sauteed onions and about a tsp of cooking sauce.
Are you curently on diet or you just want to control your food's nutritions, ingredients? We will help you find recipes by cooking method, nutrition, ingredients...
Check it out »