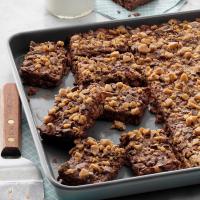 These chocolate Rice Krispies treats are crowd pleasers! The secret to making them soft and chewy is bringing the sugar mixture just to a boil and then cooking for only one minute. If it boils too long, they tend to be firmer and can become crumbly. -Dawn Lowenstein, Huntingdon Valley, Pennsylvania
Provided by Taste of Home
Categories Desserts
Time 20m
Yield 4 dozen.
Number Of Ingredients 11
Steps:
In a large saucepan, melt butter over low heat. Add sugars, baking cocoa, milk and salt; bring to a boil. Cook and stir over medium heat for 1 minute. Remove from the heat. Stir in Nutella, marshmallow creme and extract until melted. Stir in Rice Krispies., Press into a greased 15x10x1-in. pan; cool slightly. Sprinkle with toffee bits; refrigerate until set. Cut into squares; store in an airtight container.
Nutrition Facts : Calories 132 calories, Fat 6g fat (2g saturated fat), Cholesterol 7mg cholesterol, Sodium 74mg sodium, Carbohydrate 19g carbohydrate (17g sugars, Fiber 0 fiber), Protein 1g protein.
Are you curently on diet or you just want to control your food's nutritions, ingredients? We will help you find recipes by cooking method, nutrition, ingredients...
Check it out »