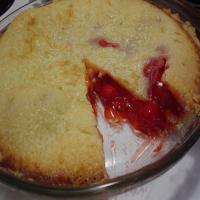 My mother made this all the time. You can use different fruit, strawberry or blueberry. It is so easy. Everyone will enjoy it.
Provided by kfcook
Categories Pie
Time 1h
Yield 1 Pie, 8 serving(s)
Number Of Ingredients 8
Steps:
For the crust, mix the melted butter, flour and sugar. Press into a 9 inch pie plate.
Pour pie filling of choice over crust.
For the topping, combine 1/2 cup sugar, egg, milk, and flour in a bowl. Pour over pie filling.
Bake at 350 degrees Fahrenheit for 45 to 50 minutes.
Are you curently on diet or you just want to control your food's nutritions, ingredients? We will help you find recipes by cooking method, nutrition, ingredients...
Check it out »
#60-minutes-or-less #time-to-make #course #preparation #low-protein #pies-and-tarts #desserts #pies #dietary #low-sodium #low-in-something