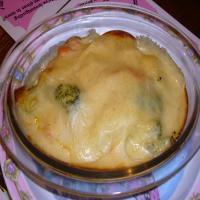 Yesterday we were having a roast and made this as a side dish, normally for just plain cauliflower cheese you would use more cauliflower instead of broccoli, but this was very tasty and incredibly high in anti-cancer foods
Provided by Perfect Pixie
Categories One Dish Meal
Time 40m
Yield 4 serving(s)
Number Of Ingredients 9
Steps:
Preheat oven to 360°F.
Steam your vegetables, reserve the juice.
Cut them into big bite size pieces and put in a oven dish.
Melt butter in a medium saucepan.
Add flour and mix in, it wont be smooth yet.
Gradually add the milk stirring it in, (you don't want to add it quickly and get clumps, if so just beat it with a hand whisk). You want to get to a custard consistency. If you run out of milk you can use the juices from the vegetables to get it to a custard-like consistency.
Once it is the right consistency and is starting to boil, add the cheese. It will start to thicken now.
Wait a little bit while the cheese melts.
Pour over vegetables.
If it doesn't go in between the vegetables and just sits on top, put it back on the element and add some more juice or milk to get it right. You can leave until you want to cook or cook straight away.
Cook in oven for 30 minutes, or until done.
If you like it extra cheesy, before you put it in the oven add some mozzarella cheese on top.
It will be very hot, so be careful.
Nutrition Facts : Calories 226.8, Fat 17.4, SaturatedFat 11, Cholesterol 53.5, Sodium 259.2, Carbohydrate 8.1, Fiber 0.7, Sugar 0.9, Protein 9.9
Are you curently on diet or you just want to control your food's nutritions, ingredients? We will help you find recipes by cooking method, nutrition, ingredients...
Check it out »
#60-minutes-or-less #time-to-make #course #main-ingredient #cuisine #preparation #occasion #south-west-pacific #main-dish #side-dishes #vegetables #easy #beginner-cook #dinner-party #kid-friendly #romantic #vegetarian #winter #dietary #one-dish-meal #seasonal #high-calcium #comfort-food #oamc-freezer-make-ahead #low-carb #new-zealand #high-in-something #toddler-friendly #low-in-something #broccoli #carrots #cauliflower #taste-mood #number-of-servings #presentation #served-hot