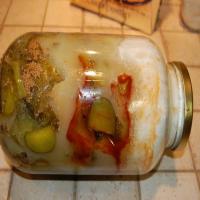 Recipe given to me by dear friends who have since passed away. Never had anyone who did not like these. These are always in my fridge. So so simple! I hope you enjoy them too.
Provided by Joey Urey
Categories Other Snacks
Time 15m
Number Of Ingredients 6
Steps:
1. Drain dill pickles well.
2. Cut whole pickles into bite sized pieces
3. Layer pickles in jar interspersed with rest of ingredients. Add most of the sugar at the last. It takes some shaking to get all the sugar to settle in the jar.
4. Roll every day for 1 week. (usually takes only 1-2 days)
5. Refrigerate or process. (I keep mine in the fridge and they keep very well)
Are you curently on diet or you just want to control your food's nutritions, ingredients? We will help you find recipes by cooking method, nutrition, ingredients...
Check it out »