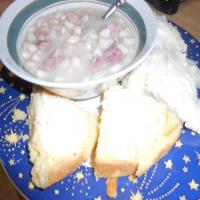 When I was a child in the '50s, this hearty meal was on the menu every Monday (washday) like clockwork! We all loved it, especially the drop dumplings, and there were never any leftovers in our family of eight.
Provided by Ellen Bales
Categories Bean Soups
Time 3h40m
Number Of Ingredients 14
Steps:
1. Wash the beans and discard any irregular or discolored ones; add 2 quarts cold water and soak overnight.
2. Drain the old water and add 2 quarts fresh cold water into a large soup pot or Dutch oven. Place beans, ham, salt, peppercorns, and bay leaf into pot; cover. Simmer on low heat for 3 to 3 1/2 hours. Add onion for the last half-hour.
3. If using ham bone, remove and cut the meat off; add ham to soup. If using ham steak cubes, leave in soup. Season to taste.
4. FOR DUMPLINGS: Mix flour, baking powder, and salt into mixing bowl. Combine milk and vegetable oil separately. Add all at once to dry mixture, stirring just until moistened.
5. Turn heat to medium to high under beans and bring them back to a boil. Drop batter from tablespoon atop bubbling beans. Cover tightly; let mixture return to boiling. Reduce heat (don't lift cover); simmer 12 to 15 minutes. Makes about 10 dumplings. Serve with plenty of cornbread.
Are you curently on diet or you just want to control your food's nutritions, ingredients? We will help you find recipes by cooking method, nutrition, ingredients...
Check it out »