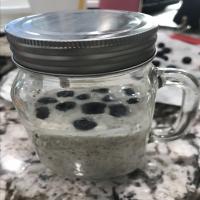 If you soak oats in milk and yogurt overnight in the fridge, you don't need to cook oatmeal in the morning! This is a delicious and easy breakfast to start your day. I add blueberries, honey, cinnamon, and flaxseed meal to make it a little more nutritious.
Provided by Chantal
Categories 100+ Breakfast and Brunch Recipes Cereals Oatmeal Recipes
Time 8h5m
Yield 1
Number Of Ingredients 7
Steps:
Combine oats, milk, yogurt, flaxseed meal, honey, and cinnamon in a glass jar; mix well. Fold in blueberries. Cover and refrigerate, 8 hours to overnight.
Nutrition Facts : Calories 298 calories, Carbohydrate 48.3 g, Cholesterol 11.4 mg, Fat 7.6 g, Fiber 6.6 g, Protein 12 g, SaturatedFat 2.4 g, Sodium 95.3 mg, Sugar 25.8 g
Are you curently on diet or you just want to control your food's nutritions, ingredients? We will help you find recipes by cooking method, nutrition, ingredients...
Check it out »