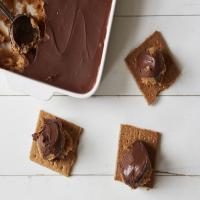 A friend and I were discussing the plight of buckeyes, while tailgating on a 100*+ day. They are hard to eat because the chocolate is melty and messy. She was upset that she had to throw away an entire container of melted buckeyes. Our collaborative effort was buckeye dip. This is a work in progress so feel free to tweak to your liking.
Provided by JulianaLoriel
Categories Dessert
Time 10m
Yield 1 container, 10 serving(s)
Number Of Ingredients 6
Steps:
Combine first 4 ingredients until smooth.
Spread in the bottom of a greased pan.
Pour nutella over the peanut butter mixture. (we originally thought chocolate ganash, but nutella was easier).
Chill for about 2 hours.
Serve with Graham Crackers, Animal Crackers, Etc.
Nutrition Facts : Calories 525.9, Fat 32.1, SaturatedFat 17.8, Cholesterol 26.1, Sodium 208.1, Carbohydrate 53, Fiber 3.5, Sugar 46.5, Protein 9.9
Are you curently on diet or you just want to control your food's nutritions, ingredients? We will help you find recipes by cooking method, nutrition, ingredients...
Check it out »
#15-minutes-or-less #time-to-make #course #main-ingredient #preparation #occasion #appetizers #desserts #easy #beginner-cook #fall #dips #chocolate #seasonal #taste-mood #peanut-butter