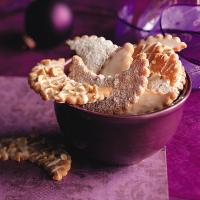 "These nutty shortbread crescents are simply scrumptious. Everyone will love them, whether glazed or dusted with powdered sugar. Cashews add that extra special taste." -Paula Marchesi, Lenhartsville, Pennsylvania
Provided by Taste of Home
Categories Desserts
Time 25m
Yield 6 dozen.
Number Of Ingredients 10
Steps:
Place cashews in a food processor; cover and process until finely chopped. , In a large bowl, cream butter and sugars until light and fluffy. Beat in 1 teaspoon vanilla. Combine flour, salt and chopped cashews; gradually add to creamed mixture and mix well. , Divide dough in half; shape each into a ball, then flatten into a disk. Wrap in plastic and refrigerate 30 minutes., Preheat oven to 375°. On a lightly floured surface, roll one portion of dough to 1/4-in. thickness. Using a floured scalloped round 3-in. cookie cutter, cut a semicircle from one corner of the dough, forming the inside of a crescent shape. Reposition cutter 1-1/4 in. from inside of crescent; cut cookie, forming a crescent 1-1/4 in. wide at its widest point. Repeat with remaining dough. Chill and reroll scraps if desired., Place 1 in. apart on ungreased baking sheets. Bake 6-7 minutes or until edges begin to brown. Cool 2 minutes before removing from pans to wire racks to cool completely., Combine the confectioners' sugar, milk and remaining vanilla; spread or drizzle over cookies as desired. Sprinkle with chopped cashews if desired. Leave some cookies plain or sprinkle them with additional confectioners' sugar if desired. Let iced cookies stand until set. Store in an airtight container.
Nutrition Facts : Calories 79 calories, Fat 4g fat (2g saturated fat), Cholesterol 7mg cholesterol, Sodium 34mg sodium, Carbohydrate 10g carbohydrate (7g sugars, Fiber 0 fiber), Protein 1g protein.
Are you curently on diet or you just want to control your food's nutritions, ingredients? We will help you find recipes by cooking method, nutrition, ingredients...
Check it out »