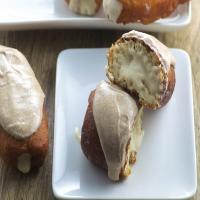 I grew up with these oh so good bar doughnuts and didn't realize till recently that they are somewhat of a northwestern phenomenon. I actually halved the original recipe because it was so huge, so it does double. Don't use to much flour because it will make the dough tough. If you are feeling really decadent (they are already deep fried after all) I like to fill them with Bavarian cream filling which I get at our Cash and Carry restaurant supply store, or you can make it yourself.
Provided by startnover
Categories Yeast Breads
Time 1h3m
Yield 1 batch
Number Of Ingredients 14
Steps:
In a bowl place yeast and 1/2 water, to activate.
Place butter, salt, and sugar in hot scalded milk, then add cold water.
Mix well and add eggs to this.
When it is cool enough place in mixer with yeast mixture.
Add flour 1 c at a time till soft but workable dough.
Roll out on lightly floured surface into a rectangle about 1/4-1/2 inch thick.
Cut into rectangular bars about 2-3 inches by5-6 inches.
Let rise till doubled.
Heat oil to 350°F and fry till browned on both sides.
Drain on paper towels and when cool fill with bavarian cream if desired and frost.
Frosting:.
Place all ingredients in a medium bowl and mix with a hand blender till smooth.
I frost mine as I eat them because if you let the frosting sit it will start to slide off the doughnut.
The number you will get is determined by how big you cut them.
Nutrition Facts : Calories 7186.2, Fat 193.5, SaturatedFat 46, Cholesterol 600.7, Sodium 4600.2, Carbohydrate 1238.6, Fiber 26.7, Sugar 630.5, Protein 117.8
Are you curently on diet or you just want to control your food's nutritions, ingredients? We will help you find recipes by cooking method, nutrition, ingredients...
Check it out »