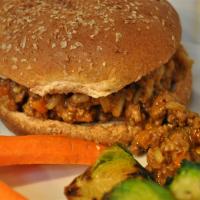 This recipe is based on the sloppy joes I loved as a kid. My own kids don't eat enough veggies, so I added them to this recipe and they pass the kid-approved test. This recipe was entered in our school's cookbook and has been a big hit for a quick weeknight supper. Equally tasty with ground turkey.
Provided by Lnldad
Categories Main Dish Recipes Sandwich Recipes Sloppy Joe Recipes
Time 30m
Yield 4
Number Of Ingredients 10
Steps:
Heat olive oil in a large skillet over medium heat. Cook and stir beef in the hot oil until browned and crumbly, 5 to 7 minutes; drain and discard grease. Return skillet to heat.
Stir onion, bell pepper, celery, and carrot into the ground beef; cook and stir until the vegetables are tender, 5 to 7 minutes; add chicken gumbo soup, chili sauce, yellow mustard, and onion salt. Reduce heat to medium-low, stir beef mixture, and simmer until the sauce thickens, about 5 minutes.
Nutrition Facts : Calories 332.1 calories, Carbohydrate 19.4 g, Cholesterol 73.2 mg, Fat 18.3 g, Fiber 3.3 g, Protein 22.5 g, SaturatedFat 6.1 g, Sodium 1623.5 mg, Sugar 7.9 g
Are you curently on diet or you just want to control your food's nutritions, ingredients? We will help you find recipes by cooking method, nutrition, ingredients...
Check it out »