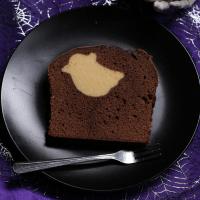 Here's what you need: vanilla pound cake, pound cake mix, cocoa powder, butter, chocolate, milk, eggs
Provided by Rie McClenny
Categories Desserts
Yield 8 servings
Number Of Ingredients 7
Steps:
Preheat the oven to 350˚F (180˚C).
Line a 8x4-inch (20x10 cm) loaf pan with parchment paper and generously grease the pan.
Slice the vanilla pound cake as the same thickness as a ghost shaped cookie cutter. Cut out the cake with using a ghost-shaped cookie cutter. Set aside.
In a medium bowl, combine pound cake mix, cocoa powder, butter, melted chocolate, milk, and eggs. Mix until well combined.
In the lined and greased loaf pan, add ⅓ of the batter. Line the cut out ghost-shaped pound cake in the middle of the pan.
Pour rest of the batter over the ghost-shaped cake.
Smooth the top and bake for 35-40 minutes, or until inserted toothpick comes out clean. Cool completely on cooling rack
Enjoy!
Nutrition Facts : Calories 407 calories, Carbohydrate 69 grams, Fat 12 grams, Fiber 1 gram, Protein 6 grams, Sugar 40 grams
Are you curently on diet or you just want to control your food's nutritions, ingredients? We will help you find recipes by cooking method, nutrition, ingredients...
Check it out »