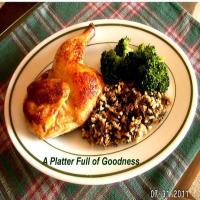 One of our members is building on a rice dish theme, so thought I would offer this dish. The Rock Cornish Hen is a versatile little bird, that can be prepared in any number of ways. I chose a simple preparation for this one and accompanied it with my "Wild Rice and......" recipe, which see. A link is provided in the comments...
Provided by Gary Hancq
Categories Chicken
Time 1h15m
Number Of Ingredients 8
Steps:
1. Rinse Hen well and dry with paper towels. Using Kitchen shears or knife, lay hen breast side up and snip or cut down one side of breast. as well as a short slice at the neck and tail, so you can lay the bird flat.
2. In a foil lined cake pan or baking dish lay the hen out flat, breast and flesh side up. Drizzle with the Lemom Juice, sprinkle with the Salt,Pepper, Poultry Seasoning, Thyme and Onion Powder. Use a very little amount of each of these, less than a tenth of a teaspoon. **Just a Pinch** is what you can pick up between you thumb and forefinger. And then sprinkle lightly.
3. Drizzle on the Olive Oil and rub on the Butter.
4. Bake at 350 degrees for 45 to 50 minutes. They should brown nicely without the need to broil.
5. If browned after 45 to 50 minutes, remove from oven and baste well with the juices. Lower oven temp to 250 degrees and bake an additional 10 to 15 minutes.
6. Sever and separate the two halves, (This could be done before baking) and plate them up.
7. This is great with homemade stuffing or rice. I prefer to accompany them with my Wild Rice recipe, which see. I incorporate Wild Rice, Brown and Long Grain Rice and white Rice. I cook all separately then combine and add finely minced Celery, Onions and Walnuts or Pecans. The wild Rice pairs excellently with Shrimp and Fish offerings as well.
8. Note: The wild rice was retrieved from the freezer and was prepared three months earlier. I make a large batch and freeze in quart zip-lock bags and compress no thicker than my finger, so I can break off just what I need to serve. It freezes very well, and was just as good as the day I made it.
Top Asked Questions
How to Cook Cornish Game hens in rice?
Mix in the water, chicken bouillon cube, and 1/2 teaspoon salt. Bring to a boil. Reduce heat, cover, and cook 45 minutes until rice is tender and easily fluffed with a fork. Preheat oven to 400 degrees F (200 degrees C). Season the Cornish game hens inside and out with salt, and stuff with the rice mixture.
What can I make with Cornish hens?
Roasted Cornish Hens With Double Mushroom Stuffing I Can't Believe It's Not Butter! Wild Rice Stuffing with Salami, Mushrooms, and Apples. Pretty Bee Pineapple Glazed Pork Roast with Bacon Wild Rice Stuffing. Half Baked Harvest
How much does a Rock Cornish Game Hen weigh?
Easy-to-cook with nice fatty skin, plump breasts, and tender texture, Rock Cornish game hens are a nice addition to festive fall dinner tables. Weighing in at a pound-and-a-half each, they plate beautifully for one-per-person service.
How do you stuff hens with rice?
Add cooked rice, cherries, parsley and vinegar, reduce heat to low and cook until warmed through. Remove from heat and set aside (or refrigerate) until ready to stuff hens. For the hens, adjust oven rack to middle position and heat oven to 400ºF (204ºC). Place a wire rack inside a large rimmed baking sheet (at least 19-by-13–inch).
Are you curently on diet or you just want to control your food's nutritions, ingredients? We will help you find recipes by cooking method, nutrition, ingredients...
Check it out »