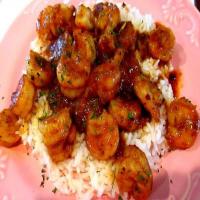 My family requested sweet & spicy shrimp for dinner, so I threw this concoction together and boy did they ever love it. Not a shrimp left. You can cut down on the heat if you prefer. My family likes it hot and my measurements of the spices were perfect for them. Enjoy!
Provided by Cassie *
Categories Seafood
Time 20m
Number Of Ingredients 10
Steps:
1. In a small dish, mix the sugar, garlic powder, garlic salt, Italian seasoning, cayenne, red pepper flakes.
2. In a large skillet over medium heat, melt 3 tablespoons of the butter with the oil. Add the spice mixture and stir making sure all is wet and mixed well with the oil and butter. Should be bubbling.
3. Add the shrimp, spreading out so to cook evenly, stirring occasionally ( about 2 minutes after adding ) make sure other side is cooked as well, only until opaque.
4. Stir in the remaining butter and sherry if using. Spoon hot shrimp and sauce over rice or pasta, with a squeeze of lemon if desired. My version is pretty spicy, you can cut down on the cayenne & pepper flakes to half if desired. My family likes hot.
5. Enjoy! They're delicious!
Are you curently on diet or you just want to control your food's nutritions, ingredients? We will help you find recipes by cooking method, nutrition, ingredients...
Check it out »