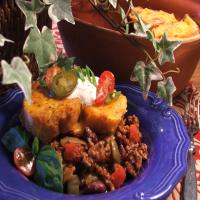 For Garlic lover's. Not for the weak of heart. This dish can be served with a crisp, green salad. You can adjust the garlic amount to your taste preferences.
Provided by Debloves2cook
Categories Mexican
Time 1h5m
Yield 6 serving(s)
Number Of Ingredients 17
Steps:
Heat two tablespoons Oil in a large pan. Cook the Onion until it starts to soften, then add the 3 crushed cloves of Garlic and cook for two more minutes.
Stir in the Ground Beef and cook until browned.
Add the spices, cook for an additional minute.
Reduce heat to simmer. Stir in the Stock, Tomatoes, green Pepper, Tomato Paste and Oregano and simmer for 25 minutes, stirring occasionally.
Add the beans and season with salt and pepper to taste.
Preheat oven to 375.
Transfer the chili to a large gratin or casserole dish.
Heat the remaining three Tablespoons of oil, add the 6 thinly sliced cloves of Garlic and cook slowly to soften.
Remove from the heat, brush the bread slices, front and back with the oil/garlic mixture.
Arrange the treated bread slices on top of the chili.
Scatter the remaining oil/garlic slices and the grated cheese over the top of the bread.
Bake uncovered for 20 minutes.
Nutrition Facts : Calories 446.2, Fat 27.3, SaturatedFat 8.4, Cholesterol 61.3, Sodium 593.2, Carbohydrate 29, Fiber 3, Sugar 4.2, Protein 21.4
Top Asked Questions
What is a good chili recipe?
Simple as Frito pie. My good, basic chili recipe and one of my favorite ways to use it! Brown ground chuck with garlic in a pot over medium-high heat. Add tomato sauce, Rotel, salt, oregano, cumin, and chili powder. Cover and reduce heat to low. Simmer for 30 minutes. Add drained and rinsed beans.
How do you make Frito chili pie?
Frito Chili Pie is a fall comfort food classic. Easy homemade chili is combined with crunchy Fritos chips and cheese for a delicious twist on chili! In a large skillet or pot, brown the ground beef, onion, and garlic on medium heat. Drain off excess fat. Add kidney beans, tomato paste, rotel, chili powder, salt, sugar, and cumin to ground beef.
How do you cook shrimp with garlic and Chiles?
The classic combination of shrimp, garlic and chiles creates something sizzlingly special. Technique tips: Simmer garlic in water to mellow out flavor. Use a mortar and pestle to crush the cumin seeds and fennel seeds. In a small saucepan set over medium heat, add the garlic and cover with 1-inch water. Bring to a simmer.
What do you put in a Frito pie?
Quick and easy Frito pie recipe (chili pie), homemade with simple ingredients in one pot in 30 minutes. Full of ground beef, beans, corn, salsa, enchilada sauce, corn chips, cheese, taco seasoning. If you are looking for a simple yet delicious meal for your family on one of those "What do I make for dinner?" nights, then this is the one!
Are you curently on diet or you just want to control your food's nutritions, ingredients? We will help you find recipes by cooking method, nutrition, ingredients...
Check it out »
#time-to-make #course #cuisine #preparation #north-american #main-dish #mexican #chili #4-hours-or-less