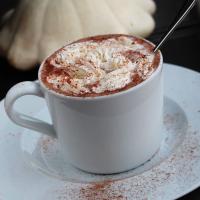 This pumpkin spice white hot chocolate is so chocolaty, pumpkiny and creamy. Top with whipped cream, cinnamon, and cinnamon stick.
Provided by Yoly
Categories Fruits and Vegetables Vegetables Squash
Time 12m
Yield 1
Number Of Ingredients 7
Steps:
Combine milk, chocolate chips, and cocoa powder in a saucepan over medium heat. Bring a simmer, stirring constantly until chips are melted, about 5 minutes. Add pumpkin puree, pumpkin pie spice, vanilla extract, and cinnamon; whisk until well combined and heated through, 2 to 3 minutes.
Nutrition Facts : Calories 408.2 calories, Carbohydrate 44 g, Cholesterol 29 mg, Fat 21.2 g, Fiber 2.8 g, Protein 12.3 g, SaturatedFat 12.9 g, Sodium 296.2 mg, Sugar 39 g
Are you curently on diet or you just want to control your food's nutritions, ingredients? We will help you find recipes by cooking method, nutrition, ingredients...
Check it out »